Multi-colored Hair Color and Set
Thursday, April 2, 1998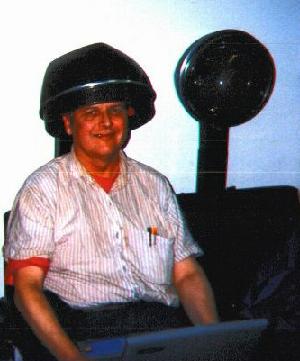 I was overdue for both a color touch up and a set. The rain had been depressing, and I had been up late with other activities, including "moving in" to a new computer and rearranging some Web Sites. Even though the skies were threatening, I ventured out, taking my umbrella with me. Good thing! By the time I reached the salon it had started to rain!

I arrived at my usual salon at 4:30 p.m. without an appointment. The small shop was packed. The male barber who also works there was giving a man a haircut, while my stylist was giving a small girl a haircut as well. Judging from the hair on the floor, she had gone from a medium length to a rather short bob.

Her mother was there, and appeared to have just had a perm. Another woman was there having a perm, and was seated with her rolled hair wrapped in a plastic cap and towel.

The child's haircut was finished. The woman getting a perm was rinsed and had her rollers removed at the shampoo bowl. She received a conditioner and again had her hair wrapped under a towel.

Finally, at 5:15 p.m., I was motioned over to the shampoo bowl, where my hair was washed. I was then placed under a dryer to dry it. My hair usually gets oily, and this pre-washing is necessary. I selected a color, a medium golden brown, and the stylist proceeded to mix it.

Meanwhile, another woman came in for a Shampoo and Set. She had fairly short hair, which was thinning somewhat. She was shampooed, and her hair was set on Velcro rollers, ranging from 1-1/2" to 1/2". She was then placed under the other dryer next to me. After my hair was dry, I browsed through the hair style books at the salon and chose a hairstyle that I wanted to imitate.

The first woman then had her freshly-permed hair cut and styled using a blow dryer.

Then it was my turn to have the hair color applied. The stylist worked with a tint bottle, and applied the hair color over my entire head, emphasizing the "new growth" areas around my face. She set a timer for 30 minutes.

The second woman also had her hair styled using a blow dryer. The third woman had removed her rollers while I was having the color applied. After the stylist was finished applying the hair color to me, she then styled her hair, again using a blow dryer.

Just before the timer went off, it was my turn to have the color shampooed out. Then she spritzed two different conditioners on my hair, and applied a generous amount of mousse. I then was set using solid plastic "magnetic" rollers, with yellow ones about 1" in diameter on top and orange ones about 3/4" in diameter over the remainder of my head. A few smaller magnetic and Velcro rollers were used at the nape. I was then placed under the dryer, after retrieving my laptop computer and plugging it in so that I could type these notes.

It was after 7:00 p.m. at that point, and by that time she and I were the only ones in the salon. She resumed cleaning up the shop from the day's activity. She washed the used perm rods in the shampoo bowl. When my hair was dry, I got her to take a picture of me under the dryer while I was typing this on my laptop.

She then removed the rollers, and combed through the set with a "rake." I put on my pullover sweater at that point. She finished the style using a tool with a comb and pick, mostly arranging the curls but with some back-combing in front. She then sprayed my entire head with hair spray, and used a blow dryer to dry it.

She then took some pictures of my finished style, and I took one of her as well. By the time I left the salon, it was 7:45 p.m., and it was raining lightly.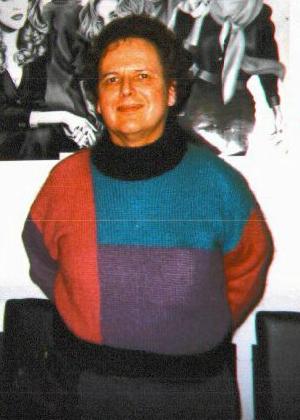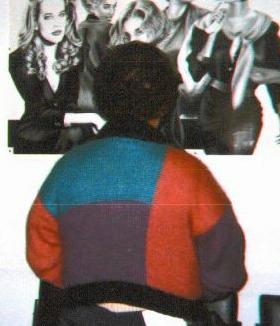 ---